What is a video sales letter? A video sales letter is a video that pitches your product or service to a prospect. Like a traditional sales letter, your video sales letter will grab your prospect's attention, discuss their pain points, showcase your product as a solution, and inspire action.
Video sales letters are pretty much becoming a staple point in any serious business's sales strategy for one simple reason – videos work …
A Video Sales Letter (VSL) is a modern version of a traditional sales letter. In the era of video, smartphones and short attention spans, the VSL is able to combine the all of the above in one short visual display that is engaging and when targeted at the right audience is very effective.
The VSL can be short or long, it can include audio such as voice overs or music background or no audio at all. See the two examples below, one is less than 10 seconds the other is 4 minutes long and has both audio and background music included. Each slide is independent and can have audio or music but remember a lot of people don't always have the video sound on but they do have their mobile phones volume on so it important to have the written text as well visible on the screen, to be able to reach your intended audience.
If you have the right software you can even make your video interactive in that you can add a page that will be direct the visitor at the end of the video to the url of your choosing. See the below first and after viewing the two videos below click on this link https://videourl1.co/9715d3 to see how this would work.  You could for example include the link for example in an email or your online signature, as not all emails will allow their users to open videos dependent on user settings. This is a way to ensure your video gets seen along with your call to action (CTA) and is easy for the user to interact on the video itself.
In the example below we want to promote a digital ebook for the Keto Diet but we need to bring the user to the ebook library where there are many other ebooks available as well. Using the interactive page on the video we can direct them right to the individual page inside the ebook library itself where the user can browse around. So we have achieved the primary CTA of showcasing the Keto Diet ebook but we have also achieved the secondary CTA of bringing the user inside the digital ebook library. Imagine what we could do for your business using VSL's combined with Interactive links and directing them to your url.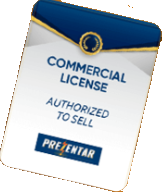 Sure you can do this, you will need to buy the software and currently we have coupons available from $50 through to $200 but these are time limited and may still be available please check here for details. We are authorised to sell Prezentar and to Create Presentations for commercial clients.
Or you can let us create your Presentation or VSL  for you using our Bspoke Marketing Services, contact us for pricing quote based on your requirements, but you can be sure it will be competitively priced. We will deliver a high quality project that will wow your audience and build the slides to suit your needs.