Video business proposals allow you to send personalised proposals to prospective clients – Saving your business TIME RESOURCE and BUSINESS EXPENSES on the need to travel to meet!
With most countries around the world imposing lockdowns… businesses are today FORCED to GO ONLINE…If you want to close prospects in 2021 you need to move with the times and we introduce e-signatures…See below how this can help your business to grow.
Remember: In 2021, In Person, Face to Face Meetings are DEAD(Thanks to Corona 👎)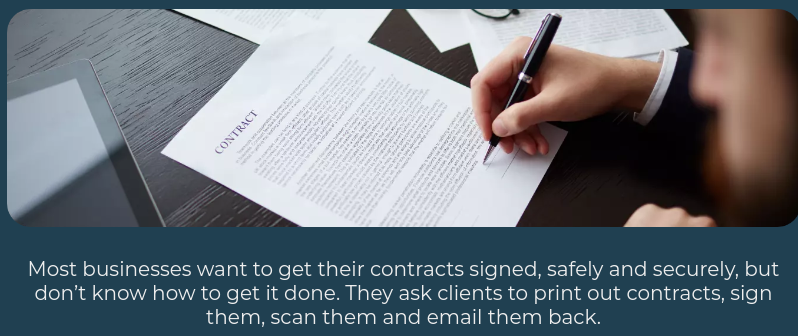 For many businesses they are still doing doing business the old way, mainly because they have not invested or kept themselves up to-to-date with the changes that technological advances bring to them. They are content with their lot and that's fine but remember the Dinosaurs. For just like a dinosaur, unless a business learns to adapt and change with the times for many they will become extinct and fade away.
Communication:
First – Globalisation made it nearly impossible with customers and sellers located in different countries and time zones.
And then the pandemic made it even worse… with even customers and sellers located a few streets away from each other being unable to meet now due to lock-downs and a reluctance to meet face-to-face.
With new Start Up's springing up that are able to take advantage of modern technology this is not new to them as they introduce this as Business As Usual working practises. These quickly surpass the old Dinosaurs both in time and money as they are able to utilise them both, which allows them to build their businesses at a faster rate than has been the case previously.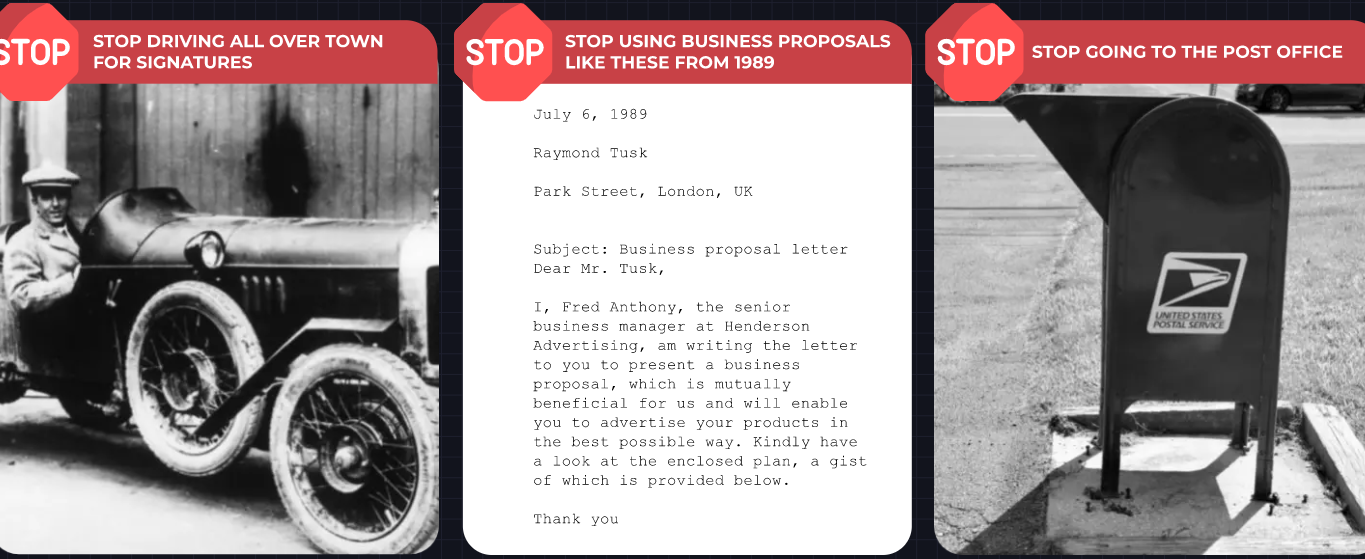 So many business turned to Skype and Zoom calls to overcome this restriction to meet up which like most business network meetings worked well to a point for some but soon found they had limitations. For the most part they were unable to use video calls to 'Seal the Deal'. With the biggest barriers being;
Recordings are available only for a specific duration… after which – "the meeting never happened", "that was never agreed upon" etc.
They are unprofessional… because they are again followed by BORING & OUTDATED Contracts via "As Discussed Over Skype/Zoom Call…" Emails…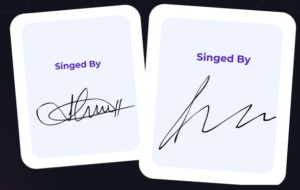 Electronic signatures make proposals significantly more likely to close. Including places for both clients and internal stakeholders to e-sign increased close rates by a massive 465%. Nobody, not even anyone on your own team, is interested in printing, signing, and scanning back a proposal, no matter how short it is.
An online document is much easier to navigate and read, not to mention sign off on.
Welcome To The New Way Of 'Sealing The Deal'
After gaining interest from the prospect probably through some form of e-mail marketing or social media campaign you need to be able to follow this up with the prospect, some business will call direct, some businesses will use an e-mail auto responder and when the prospect is hooked either a meeting to present in person or a proposal is asked for by the prospect. It is at this point where the serious business of securing the order begins in earnest and businesses direct most of their resource to. The Proposal allows businesses the opportunity to 'Seal The Deal'
The VERY first part of landing a client is sending a proposal, right? It's the MOST basic step to closing the sale.
However, what NO ONE ever talks about is that the QUALITY of your proposal has a HUGE effect on your closing rate. Everyone knows about the power of VIDEO but today we can offer a new service for our clients.
VIDEO PROPOSALS with the ability to include legal e-signature contract signing, this is a step-change for businesses and is designed with the solution for businesses to grow and succeed.
With proposals that deliver to your prospect and clients using images and videos to show the best of what your business has to offer including such things as testimonials and products or service offerings, bringing your proposals to life and engaging them in a way that static text can not do so.
The New Breed Of Video Proposals Is Here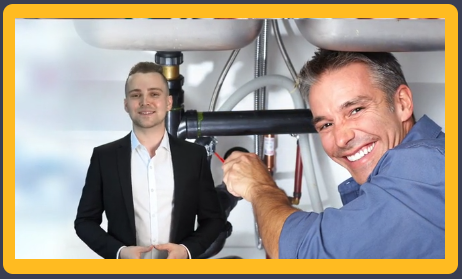 Video Business Proposals
Simply Put – You Are Missing Out If You Don't Use Video Messaging In Your Marketing…
You can show and explain a lot more in a short video than you can on a static page…
Not only do images add to the overall good design of your proposal, having images in your sales docs can increase deal close rates by up to 26%.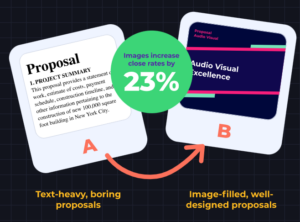 Using interactive techniques such as interactive form filling that encourage the 'Buying Signal' at the point you need them to commit to the order  / contract.

Legally binding contracts that just requires an electronic signature all of which can be done online and is available immediately as a PDF download for their own records. The PDF details the terms of the contract entered into and the deliverables of the terms as written by you. These contracts also include full traceability and can be password protected to lock out prying eyes and ensure the security of the said 'Contract'. It will not allow either side to amend the contract once it is 'locked-in' and any attempt would need to be discussed with the business and the client involved and if necessary a new contract would have to be drawn up.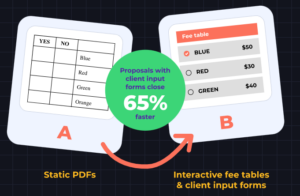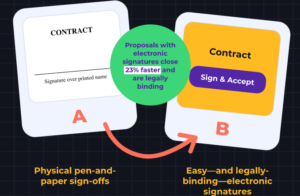 Signing and sending proposals means you're tethered to your desk. Cash flow is tied up and delayed due to the time taken to 'Seal The Deal' often with multiple visits involved and travel to and from the client or business premises.
We can help you to get your sales proposals signed faster with the e-signature feature by capturing client signatures online when they approve. We also provide:
Automated eSignature Tracking
We have an embedded audit trail that offers an added layer of e-Signature security – providing proof of who signed the document and when. We can see when your proposal has been opened, viewed, or completed and inform you the minute a customer opens, views, comments, or e-Signs your proposal. This will let you know the exact moment to engage and reignite the conversation with your prospect by getting notified of their interactions.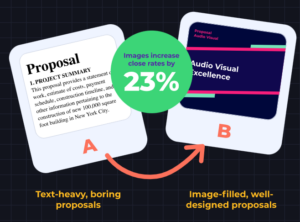 EVERYTHING we do at BDM Services is with a focus on helping our customers grow their profits. So you rest assured we know what it is like for businesses right now and we offer affordable prices for our services. We have a fixed price point of £99 for the first proposal and e-contract that we draw up which reduces to £49 for subsequent propsals and e-contracts.
Contact us today at https://bdmservices.online or contact Focussed Marketing Services for more information on how we can help your business engage with prospects and existing clients.
If you're tired of being ignored by your prospects once you've sent them a proposal, you need to seriously start upgrading your sales process. Your prospects buy based on emotions, so a video with images and other compelling design elements (like strong branding and a beautiful layout) can convey a lot about your brand, products, and services.
Today, no one wants to print, sign, scan and email business proposals back. So make it easy for your clients to do business with you.
We Will Do All this and more!
CREATE Protected Proposals That Cannot Be Deleted Once Signed
NOTIFY YOU when the client views the contract
INSERT your Call-To-Action inside your videos (or we can create one for you) with point-n-click simplicity
CREATE custom thank you pages to celebrate the new deal
See Example Of How The Video Proposal Can Be Used To 'Seal The Deal' Using Screen Dumps. We would put clients Propsals & Contracts together according to their requirements but this is an example of how it can be done.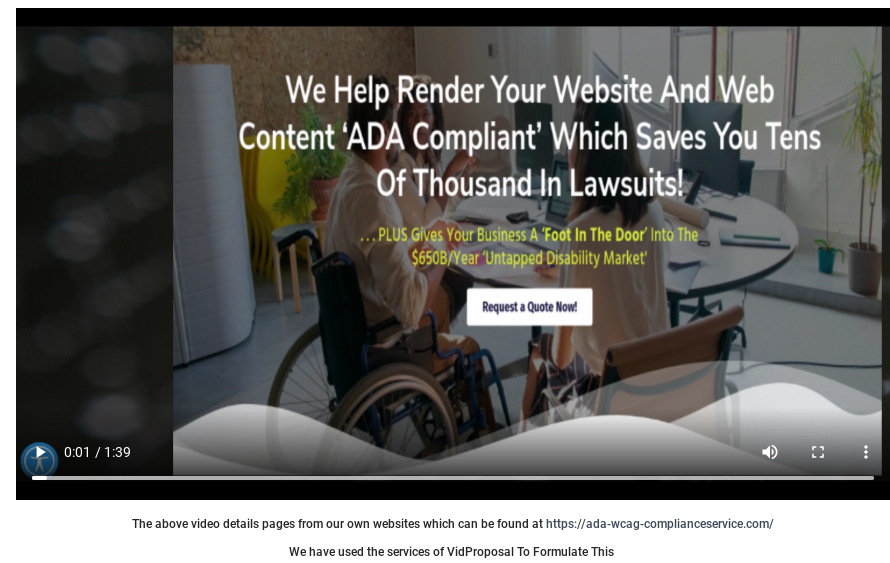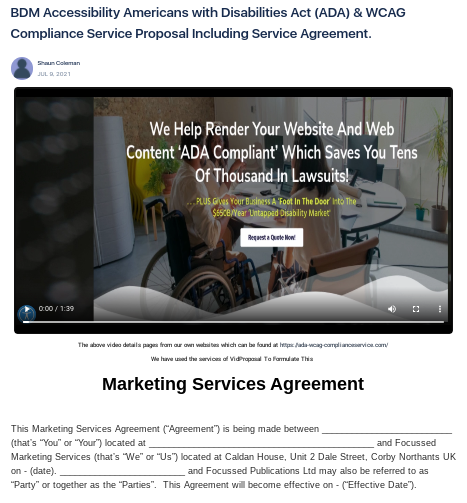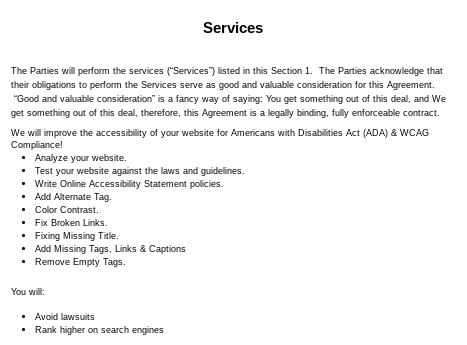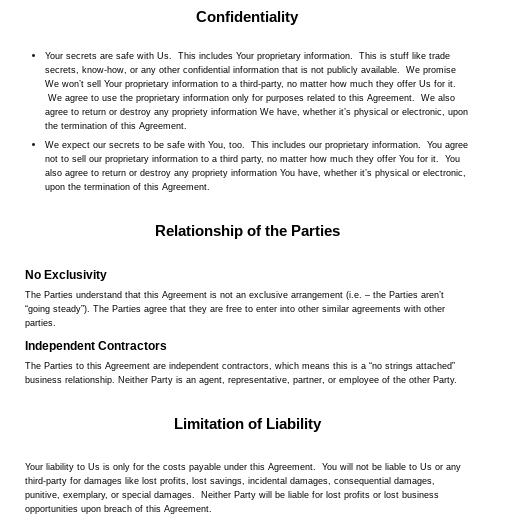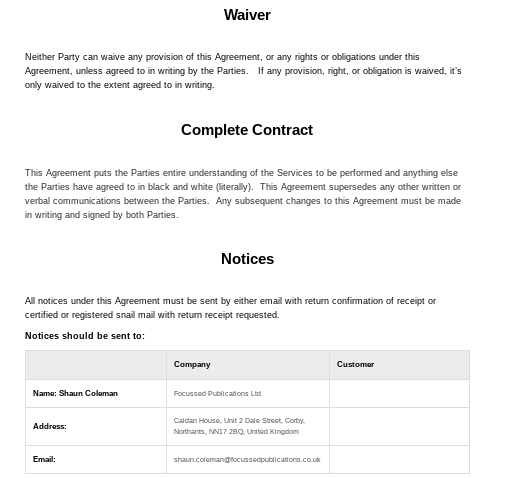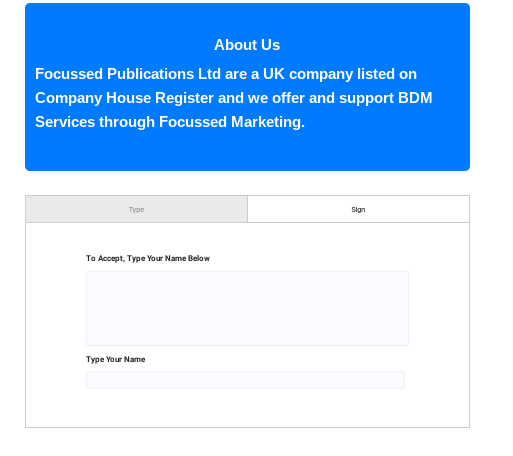 Once The Client Has Signed Their Name Using Their Fingers And Typed In Their Name an Acceptance Button is shown for them to click on. This will then show as per below which will also be available as a PDF file of the whole agreement as shown above and becomes a legally binding electronic document . Once accepted the agreement is locked down and neither party can amend any details. If any changes are required then the document would need cancelling and a new contract drawn up as per the former. This gives assurance to both named parties.