Email: towncentreapps2@gmail.com and you will receive your Compliance Risk Report.
Submit Your Quote Request (Subject Title Needs To Be Headed Compliance Report Request)

Website owners are being targeted and sued for a law that they are ignorant of. ADA & WCAG provides that web content should be accessible to the blind, deaf and those who must navigate by voice, screen readers or other assistive technologies…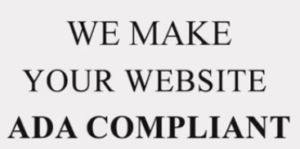 When I learned about how businesses were getting sued left and right, to say that I was shocked was an understatement. And I found that you have to meticulously deal with each image, video file, audio file, and more in a CERTAIN way so that your site is truly ADA & WCAG compliant. As a company we have invested in ensuring our own sites and client sites are compliant and now we are able to offer our services to new clients as well. By making your site compliant this also opens new markets and customer base.


Conducting an accessibility audit is usually viewed as a technical activity and is best done by a coding pro. While a knowledge of HTML is important, this is only part of the skill set required. The site owner can't just pass these jobs onto their developers as it is usually the content producers or marketing team who are required to interact and will need to fix the problems in conjunction with the technicians. For example an Accessibility Statement is required to be documented and maintained and like GDPR Privacy Statements a named organisational responsibility allocated.
The WCAG guidelines fall roughly into 3 categories:
Making sure users with access requirements can find what they want
Making sure the content they find is clear and accessible
Making sure their access technology (e.g. screen reader, screen magnifier etc.) work with a website.

We will initially offer to run a report that will tell if the website is compliant or violates ADA & WCAG and if so the report will highlight which areas need to be addressed to make it compliant. This is report is 'Free Of Charge'. If the client wishes us to address these areas of violations in the report we will offer our correction services for a fixed price that is both affordable and very competitively priced.


See how this works on a live website click here and on the page it takes you to click on the white silouette button you see at lower left on the page to activate.
Enabling the Accessibility Toolbar
The  accessibility toolbar menu can be enabled by clicking or tapping the accessibility menu icon that appears on the website. After triggering the accessibility menu, a variety of tools will be available to the user/visitor to help improve their browsing experience, such as font size, colour contrast settings and more for website users. This allows for improved website navigation, usability and compliance with the Web Content Accessibility Guidelines & Recommendations (WCAG 2.1). This ensures is made easier to use and is more accessible for people with disabilities. Most importantly gives the protection for the website owner from legal sharks.