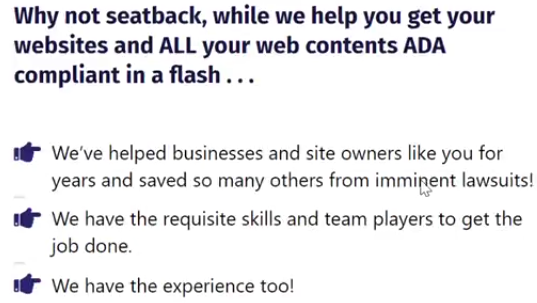 Although this is more predominate in the USA currently you can be sure this will make its way into the UK. The accessibility regulations came into force for public sector bodies in the UK on 23 September 2018. Under the Equality Act 2010 or the Disability Discrimination Act 1995 (in Northern Ireland) you're still legally required to make reasonable adjustments for disabled people when they're needed.
The European Union (EU) Directive on the Accessibility of Websites and Mobile Applications requires EU member states to make sure their websites and mobile apps meet common accessibility standards. The Directive uses the four principles of the Web Content Accessibility Guidelines (WCAG) 2.0, requiring that public sector organisations across the EU take steps to make sure their websites are "Perceivable, Operable, Understandable, and Robust. So again, by meeting the WCAG 2.0 AA you will also comply with the EU Directive.
In the USA it is being reported that companies both small and large are being sued by users of websites through teams of ambulance chasing legal teams as they are encouraging people with disabilities to use their services to get get payouts as for most companies it is to costly to fight the claims through the courts. Although this is not yet happening in the UK, it is however leaving the door open and the worrying thing is there is little room to fight the claim as the person with the disability will be able to use the DDA or ADA and any attempt to go against this leads to bad publicity for the company or business concerned as they are then seemed to be uncaring.