Until now you could only get professional voice over if you were prepared to shell out a fistful of cash to have a voice actor record themselves over your video advertisement and this could be hundreds if not thousands of pounds for a professional quality.   Then along came text to speech whereby you use apps powered by Google and Amazon that turns written text into speech for your videos but although this put the power of audio in the hands of the average video creator, it did sound robotic like and lacked any real human like quality in the speech. Over time this has improved but they still lack the ability that the real human voice has got.
Now today we are proud to announce that FMS Digital can offer Professional Voice Overs using real human voices with a range of accents. Using the text to speech we can take this and turn this into amazing voice over using the power of real human speech, using real professional voice over artists . It has to be heard to be believed, and if you are not blown away as we were then we would be very much surprised.

So taking this text  we have used Darryl to turn the text into a voice over recording see below.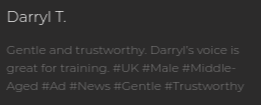 This is truly a step up from the existing voice overs and offers our clients so much more. With dozens of voices that can be selected, male, female and child voices can be used to record your written words and delivered in a professional sounding way. We can also take your own speech recording and add them to the videos we produce but few people can make professional recordings or don't wan't to use their own voice, so this is the ideal option.  'Real Human Voice Over Recordings'!

So taking the text above we have used Alicia to turn the text into a voice over recording see below.

Meet more of our artists below that we have in the FMS Digital portfolio offer, each bringing something different to the table and listing their speciality. They are all English speaking and have different accents and styles of delivery, to suit all requirements.