Click Here To See Presentation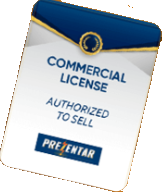 Sure you can do this, you will need to buy the software and currently we have coupons available from $50 through to $200 but these are time limited and may still be available please check here for details. We are authorised to sell Prezentar and to Create Presentations for commercial clients.
Or you can let us create your Presentation or VSL  for you using our Bspoke Marketing Services, contact us for pricing quote based on your requirements, but you can be sure it will be competitively priced. We will deliver a high quality project that will wow your audience and build the slides to suit your needs.