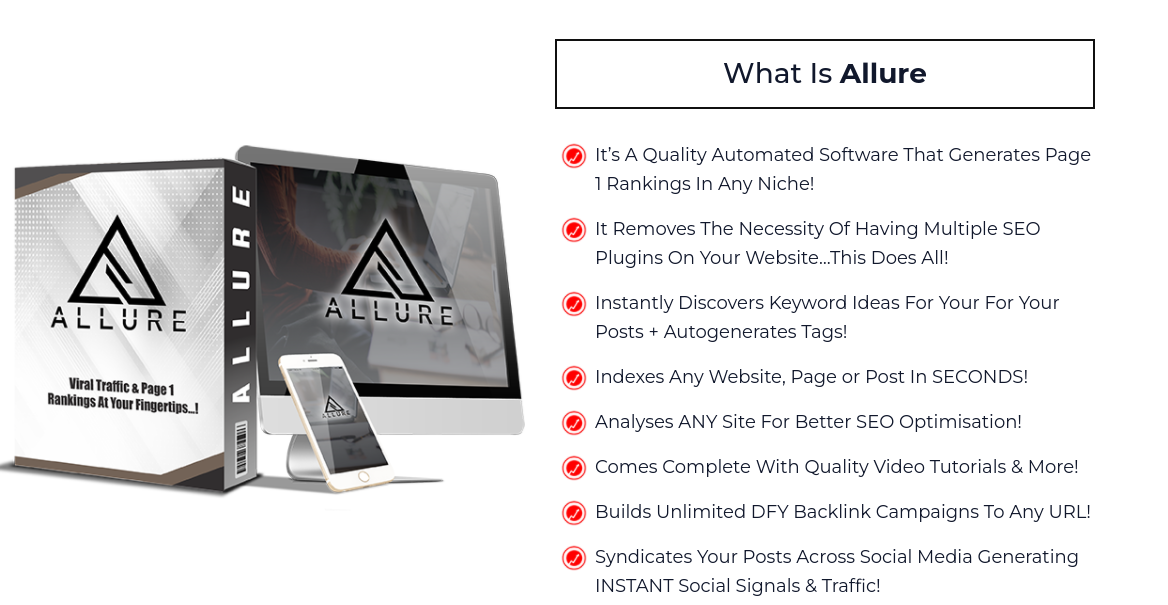 The software does all the work for you (backlinks, keyword research, social media syndication, fast ranking, and more) and delivers crisp detailed reports. See more details here…
'Having spent hundreds of pounds over the last few years on brand name SEO software and on SEO companies and coaches who 'Promised The Earth' I am some what sceptical and a lot of what has been achieved has been through my own input, following the various advice and coaching tools out there. I had accepted the fact that I would not be able to rank higher no matter what I did and my best approach would be to market through social media and network direct.
Until I came across the Allure package recently.  I thought this sounds to be good to be true but I was intrigued to see for myself and so I decided to give it a try. Wow – I was taken aback at the simplicity once I had downloaded the plugin for my word press site and set it up which was easy to do. The functionality that it allowed was stunning. What would take me sometimes hours to do and days to compete I could do in one or two clicks.
I ran the SEO report and crossed my fingers and it came out not to bad but not great with a score of 58%, there was a detailed breakdown of the failings and even a list of suggestions that I could do to improve. I thought OK I will try a couple of tweaks and sure enough the score jumped, but not just on the one page but across all the pages across the site that I had analysed.




I was amazed to see how my two tweaks suggested by the report had worked and then got to thinking surely these so called paid consultant services would have picked this up, so what else had they missed. Now I do everything myself and have started to see results coming through and this is all I could ask. Now I am re-invigorated and making other changes to the site a well.
I couldn't have done this without the tools inside Allure and the clear pathway that directed me to making the changes I need to make a difference. I have spent money and time on my website and this tool could just be the missing piece of the jigsaw. Try It for yourself and see how it can make a difference to your website ranking and traffic.